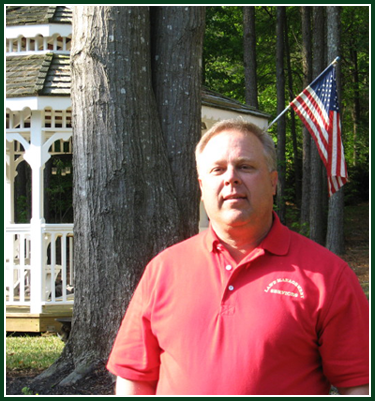 As the owner and founder, I am proud to welcome you to Lawn Management Services. Since our beginning in 2003, I have remained true to my original focus of providing the highest quality of lawn care and materials to all my clients. I enjoy meeting new people and listening to what they envision for their home or place of business.
A Passion for Creativity
I have always enjoyed the outdoors and grew up with a strong appreciation for nature and our environment. Always a topic of conversation with my family was preserving the land and keeping our water and streams clean. When I opened my business I started it with the values of protecting the environment.

What I Love About My Job
I love the direct contact that I have with all my customers and discussing what they envision for more curb appeal to invite more people into their homes or businesses. 
Whether it's a national business, multi-car dealership, chain restaurant, or condo association, our commercial customers are looking for landscape design and curb appeal to provide more foot traffic for their business. And they can count on us to deliver!
Our residential customers are also seeking curb appeal to add value to their homes, but they also consult with us to design and build outdoor environments that bring their friends and family together so they can enjoy their time outdoors… Like a vacation in their own backyard!
Community Involvement
I thoroughly enjoy reaching out and helping our community. Giving back to our community is very important to me and so is bringing people together and working toward a single cause. Over the years, Lawn Management Services has been very active in our community and frequently volunteers with several local churches, The American Veterans, Habitat for Humanity, and a variety of car shows.

Contact Me
If you're looking to start a new landscaping project, or just need some general advice on how to make your lawn more beautiful and green, give me a call! We can sit down together and discuss your ideas. I'm always available, and ready to help, at 770-883-1192.